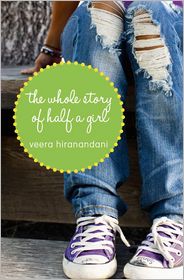 The Book:
THE WHOLE STORY OF HALF A GIRL
The Author:
Veera Hiranandani
The Publisher:
Delacorte Books For Young Readers (an imprint of: Random House Children's Books)
The Genre:
Middle Grade
Anticipated Release Date:
January 10, 2012
The Summary:
When her father loses his job, Sonia Nadhamuni is yanked out of the safe bubble of her private school and dropped into the public education system. For the first time in her life, half-Indian, half-Jewish Sonia becomes very aware of just how different she really is. Her new classmates' simply asked questions leave her scrounging for a suitable answer, because with each foot settled in two extremely different worlds, how can she truly know where she belongs? She truly is half a girl, but which half should she be? As Sonia navigates her way between a group of popular girls who want to mold her into their version of cool and a group of decidedly uncool kids, the waters become even more murky, and Sonia is left wondering: who is she, really?
At home, things go from bad to okay to things-are-pretty-freaking-far-from-okay. Her family must adjust to the difficulties of their changed circumstances--having an out-of-work parent. Her mother starts working more while her father sinks further and further into depression. Even finding a new job doesn't seem to help his state of mind. Then, he disappears.
As her mother looks for answers, Sonia looks inward, deciding what's most important in her life, who her true friends really are, and whether her two halves, no matter how different, can somehow come together to make her a whole girl.
My Thoughts:
Whether you are white, black, green, or purple, Jewish, Catholic, Buddhist, or worship the sun god of the Miccanar galaxy, THE WHOLE STORY OF HALF A GIRL is a coming of age story that will resonate with just about everyone. Veera Hiranandani has crafted a beautiful story of one girl's quest to figure out who she really is all the while dealing with the stress of how life can change when one of your parents loses his/her job.
Being on verge of teenage-dom is difficult enough, but then Sonia must deal with some mighty big transitions. The first of which is that her father loses his job. After being at Community, a school that celebrates diversity, public school is like being thrown into an icy lake without a life-jacket. Sonia fits in nowhere, and the first question out of everyone's mouths is, "What are you?" Sonia's whip-crack answer of, "A girl." had me cheering. This is no meek, mouse of a girl. Sonia knows what she will and won't stand for. What she hasn't quite figured out is who she is, something she's never before had to explain to anyone, much less herself.
My one-sentence summary:
THE WHOLE STORY OF HALF A GIRL is an original story, with a well-mapped out plot line that rolls along effortlessly and well-developed characters that you at once sympathize with, that sheds a bright light on cultural identity and dealing with having a parent suddenly without a job.