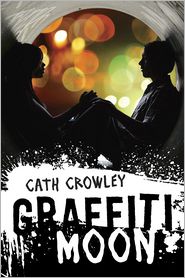 The Book
: GRAFFITI MOON
The Author
: Cath Crowley
The Publisher
: Alfred A Knopf BFYR (An Imprint of Random House Children's Books)
Expected Release Date
: February 14, 2012
Marketing Copy Summary
:
Senior year is over, and Lucy has the perfect way to celebrate: tonight, she's going to find Shadow, the mysterious graffiti artist whose work appears all over the city. He's out there somewhere—spraying color, spraying birds and blue sky on the night—and Lucy knows a guy who paints like Shadow is someone she could fall for. Really fall for. Instead, Lucy's stuck at a party with Ed, the guy she's managed to avoid since the most awkward date of her life. But when Ed tells her he knows where to find Shadow, they're suddenly on an all-night search around the city. And what Lucy can't see is the one thing that's right before her eyes.
My Thoughts
:
First, allow me to take a moment to say,
"Yay for Aussie YA!!"
*crowd cheers* and then to follow that up with a quick,
"I LOVED, LOVED, LOVED, LOVED, LOVED this book."
Did you get that I really loved this book? No? Hmm. Should I maybe repeat myself? Nah. I'll just launch into the review now.
Sorry for that brief interruption, folks. Now, let's get back to our regularly scheduled programming.
Lucy has spent years following the work of a renegade graffiti artist she only knows as Shadow. She's never once laid eyes on him, but when she looks upon his work, she feels this deep connection to the man behind the paint cans. In her heart, she knows him, not just his work. She also knows that once they finally do meet, he will feel that same soul-deep yearning for her that she's harbored for him for so long.
The only problem? It seems like every time she gets a lead on his location, Shadow disappears just moments before she gets there. How is she supposed to show him that they're meant for each other when they can't even seem to meet up?
Enter Ed, the one guy Lucy would like to erase completely from her memory banks, especially after the most disastrous date in the history of the universe happened when the two of them had gotten together so long ago. He's the last person she'd ever want to spend an entire night wandering the city with.
He's also the one person who can lead her to the elusive Shadow.
But as the night wears on, Lucy begins to see Ed in a whole new light, and she wonders if maybe, just maybe, Ed is the soul mate she's been searching for all along and not some unknown artist whose paintings call to her in a way nothing else has. And, maybe just maybe, Ed has a secret shadow of his own that could change Lucy's feelings for both him and the graffiti artist.
Told in alternating POVs between Lucy and Ed, GRAFFITI MOON explores the lives of two kids searching for balance in a chaotic world, and finding it within each other.