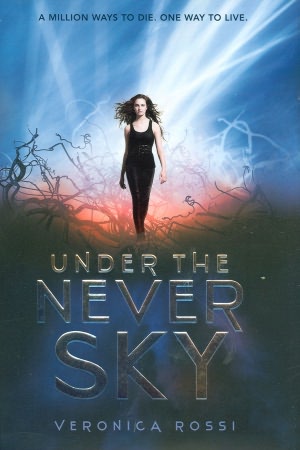 The Book
: UNDER THE NEVER SKY
The Author
: Veronica Rossi
The Publisher
: Harper Collins
Release Date
: January 3, 2012 (Buy it now!)
Marketing Copy Summary:
Ariais a teenager in the enclosed city of Reverie. Like all Dwellers, she spends her time with friends in virtual environments, called Realms, accessed through an eyepiece called a Smarteye. Aria enjoys the Realms and the easy life in Reverie. When she is forced out of the pod for a crime she did not commit, she believes her death is imminent. The outside world is known as The Death Shop, with danger in every direction.
As an Outsider, Perry has always known hunger, vicious predators, and violent energy storms from the swirling electrified atmosphere called the Aether. A bit of an outcast even amonghis hunting tribe, Perry withstands these daily tests with his exceptional abilities, as he is gifted with powerful senses that enable him to scent danger, food and even human emotions.
They come together reluctantly, for Aria must depend on Perry, whom she considers abarbarian, to help her get back to Reverie, while Perry needs Aria to help unravel the mystery of his beloved nephew's abduction by the Dwellers. Together they embark on a journey challenged as much by their prejudices as by encounters with cannibals and wolves. But to their surprise, Aria and Perry forge an unlikely love - one that will forever change the fate of all who live UNDER THE NEVER SKY.
My Thoughts:
I've read a lot of dystopians over the past year or two. Some I've loved. Others, not so much. For me, UNDER THE NEVER SKY falls somewhere in the middle.
The idea of the Aether, something so fascinating and frightening, beautiful and terrible at the same time, compelled me. How the sky could be so quiet one second, the Aether meandering in gentle swirls overhead, to the next when the heavens open up and flay you alive without the least bit of warning. How so many people live below ground, immersing themselve in imaginary worlds just to keep from going insane from inhabiting tiny cells within the earth. How they are taught to believe the outside equates to death.
It's compelling. It's haunting. (It kind of reminded me of the future in that Bruce Willis movie
Twelve Monkeys
. I won't lie. The way everyone was crammed in the ground, packed like a bunch of sardines, kind of scared the poo out of me back then. Still holds true today, come to think about it)
And then when Aria meets up with Perry on the outside. How he takes care of her, protects her, comes to respect her dogged determination to survive even though he dislikes her greatly. *sigh, swoon* He's a great LI, as far as dystopians go.
But, the ending...eh. They did everything that needed to be done. I got closure. I'm not saying I didn't, but I guess I just expected more...something. Maybe I wanted Aria to have a different attitude toward being with Perry. Maybe I wanted Perry to assert himself more in some ways, less in others.
Perhaps, it ended the way it did to make way for series potential. (this is my guess and would explain why, even though the main action ended and didn't leave me screaming, I still want more)
All in all, it was a very fascinating read, and I'd be very, very, very interested in seeing what might happen next for these two star-crossed lovers in this bold new world of theirs.